WELCOME TO PATHWAYS TO INTIMACY
Do You Want More
Passion and Intimacy
In Your Relationship?

Get Instant Access Today
Unlock this course to get completely confidential access to our self-directed course. You'll learn couples activities that will enrich and enhance even the best sexual relationship in ways you haven't imagined.


Enjoy Yourself
Learn the skills all couples need to create a foundation for a lifetime of intimacy that fulfills, satisfies, and brings passion and excitement to a loving relationship.

Soar to New Heights!
Put the tools you acquire from the course to work in fun, entertaining, and enjoyable weekly activities outlined step by step in the course materials. Watch your relationship reach new levels of passion and strength that will make every part of your relationship more loving and conflict-free.
Dr. Bloodgood's Approach to

Sex and Relational Guidance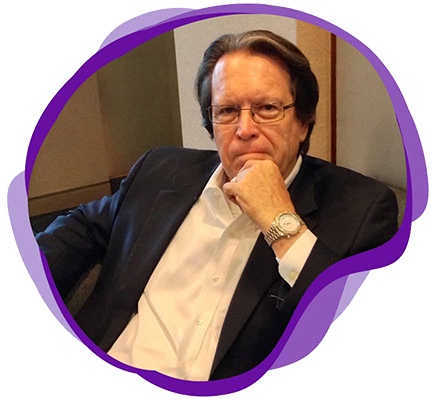 Dr. Bloodgood completed his undergraduate work with a degree in teaching and literature. During his teaching career he taught every level of classes from elementary students to graduate students, Working with several international corporations, he created and taught programs in creative sales and customer relations.
For the past thirty years he has focused entirely on a psycho-dynamic therapy practice focused on couples relationships—earning a Ph,D. in Sex Therapy. Having retired from his office practice, he now works full time as a Relationship Coach specializing in Sex and Intimacy.
As the director of Relationship Pathways, he provides online courses for couples ,and conducts teleconferencing coaching sessions for ten couples per week. He and his wife Mary, have raised 6 children together, and have 11 grandchildren. They make their home in Orlando, Florida.
Quickly and Effectively take
your relationship to
Amazing New Levels
Pathways to Intimacy Course
The Pathways to Intimacy Online Course breaks down your sexual relationship into basic building blocks, and guides you through how to assemble them into the sexual partnership you've always wanted. I've condensed advice and activities that some couples have taken years to learn into 12 easy to manage "exercises".
You'll get proven processes, gain priceless insight, and reprogram your brain for passionate and exciting intimacy and sexual fulfillment.
Fanning the Flames: Revving Up the Romance in Your Relationship Ebook
Fanning the Flames packs the equivalent of months of relationship coaching into 26 pages of specific suggestions, proven ideas, and time tested methods for tuning up and reinvigorating relationships. The ideas you will find in this book have been shared with hundreds of couples who decided they didn't need "intensive couples therapy". They just need straight forward suggestions and answers that would strengthen and enrich their relationship.
Get the book for $2.99, or FREE when you purchase the course!
How
Pathways to Intimacy

Online Can


Enhance Your Sexual Relationship
The Pathways to Intimacy Online course gets couples to open up about their intimate needs and desires through simple actions that create BIG reactions. 
You can finally find out exactly what your partner is thinking and wanting from you as a sexual partner.
Start the online course specifically tailored for coaching couples, and you will quickly understand exactly why Pathways to Intimacy Online students are off their phones, away from the TV, home from work early, and getting down in the bedroom on a regular basis – without fear, anxiety, or boredom.
Stop Repeating the Same Old Issues
Do you frequently encounter the same painfully familiar conflicts with which you have struggled for a prolonged period of time? You can move past the same old issues with the help of a marriage therapist like Dr. Bloodgood.
Get Back to What it Once Was
Does anger, frustration and resentment now mar the peaceful and satisfying relationship you once had (or hoped for)? You can resolve these issues and get back to the good ol' days with proper relational guidance and coaching.
Connect With Each Other More
Are there foundational differences in your approaches to romance, affection, intimacy, and sex that stand in the way of satisfaction? Learn to communicate in a way that bridges those gaps to open new avenues of sexual satisfaction.
Get Rid of Negative Criticism
Looking at your relationships, do you see evidence of Criticism, Contempt, Defensiveness, or Withdrawal (all of which can be toxic and destructive to any relationship)? You can get rid of negative influence with the help of a relationship coach.
Move Past Painful Memories
Do events from the past continue to create impediments to your peace and wellbeing? You can move forward and beyond issues that have stood in the way of your peace for so long.  Start your healing journey to achieve you best self for your partner.
Build Trust in Each Other
Has infidelity or some other betrayal wounded the trust and security your relationship previously provided? You can rebuild that trust and enjoy a fulfilling and intimate relationship again. Rekindle the fire with your spouse by completing the intimacy exercises on the course.
Join Decades of

Happy Couples Helped
Dr. Bloodgood worked in private practice as a relationship therapist for 25 years, at the same time teaching undergraduate and graduate level classes in mental health therapies. During that time he helped thousands of couples in distressed and problematic relationships discover workable solutions to the problems that kept them from finding contentment and satisfaction.
His workbook, PATHWAYS TO INTIMACY: A Happy Couples Guide, helped thousands more learn how to successfully discuss each others feelings and desires about romantic intimacy in their relationships.
Today, working exclusively as a life coach and mentor to couples, he continues to provide guidance and direction for couples whose relationships are not severely troubled or in need of therapeutic intervention, but are fundamentally sound and generally fulfilling. Nevertheless, they feel that in some way their relationship could be even more rewarding — particularly if they could deepen and enrich their sexual experience. In response to that desire for ultimate satisfaction, Dr. Bloodgood created the Pathways to Intimacy online course for couples.
What Our Satisfied Couples

Think About Our Services
"Worth every cent"
I have never wanted to go to therapy and talk about my past, my parents, and stuff that is over and done with. My wife felt I needed to be more open and pay more attention to her in bed.
I saw an ad for the course and gave it a try. I like the idea that it told us exactly what to do.
After the first couple of lessons I was hooked. We had a great time with it, and it certainly made my wife feel like I was making an effort. It was worth every cent.
– M.H.
"It opened some doors for us"
My husband and I didn't have any major problems in our sex life, but after 10 years we were looking for something to create a little more excitement and newness. The course was fun and it opened some doors for us. Even after 10 years we found there were things we didn't know about each other. It made us realize that sex can still be fun even after a decade. We both agree it brought us closer together.
– A.P. and spouse
"We felt like newlyweds"
In the midst of the corona shut down my wife and I were looking for something that would be interesting and make our relationship even better. For once we had plenty of time for sex. Doing the course was something we looked forward to each week and gave us activities to focus on everyday. The sex was great. We felt like newlyweds learning what each of us enjoyed the most—and that's after almost 20 years together.
G.W. and spouse
"I recommend it to my patients"
I have been a therapist for more than ten years. At least once a week I find my self quoting from Dr. Bloodgood's course. I recommend it to my patients. It provides a structured way to teach them how to have a healthy sexual relationship.
A.F. – Licensed Marriage and Family Therapist
The secret desires, fantasies, and unasked questions that you and your partner wish each other knew?  
Wondering how to start that conversation?
Benefits of

"Pathways to Intimacy Course Online"
Pathways to Intimacy Online offers tips and tricks for happy couples at every stage of their relationship. Whether dating, newlyweds, or racking up the anniversary years, you are guaranteed to find something tantalizing and titillating during your time in the course.
Don't wait around for your love life to go stale.  Enroll in the course today and let Pathways to Intimacy Online rev up your romance and fan the flames of you and your partner's desire.
Frequently Asked Questions
Will my partner and I have more sex if we take this course?
The short answer: Likely, yes. I don't know how much sex you're having now, but it's probably not as much (or as good) as you'd like. The modules within my courses require couples to engage with each other intimately. So if you and your partner agree to go through the course, having more and better sex is both the goal and the method.
My partner doesn't like to talk about sex. Can this work with him/her?
One of the most valuable parts of the course it its ability to encourage discussion of your sexual relationship in a safe, guided, and controlled manner.
By committing to respecting each others boundaries, and by expressing a willingness to explore each others sexual needs and desires, many couples find that for first time they can speak freely about things they have felt uncomfortable discussing in the past.
What if I purchase the course and my partner refuses to participate?
Sex Talk Online is designed for both partners to grow and engage intimately with one another – it will not be effective if only one person is willing to take part.  Your puchase comes with a 14-day guarantee.  If you decide in that time that the course is not right for you, simply send me an email requesting a refund and you'll get it.
NOTE: I highly recommend speaking with your partner before purchasing the course, unless you are sure your partner will be thrilled to do these activities with you. If you both determine that personal coaching may be more beneficial to you, you are welcome to contact me regarding in-person or online coaching options instead.
What if my partner wants to do things that I don't feel comfortable doing?
The course never suggests that anyone should engage in any activity that is outside the comfort level of either person. Couples typically find that when they can each give voice to their desires and discuss their feelings about an activity both individuals feel more comfortable and accepting of each others wants and needs.
Can we do this instead of going to a therapist?
**The Sex Talk Online course is created solely for educational purposes. The course is not intended to replace marriage or relationship therapy, or any other form of mental health counseling, and should not be considered as such.**
The course enriches relationships that are basically healthy. That said, many practitioners prescribe the course as an important part of their therapeutic treatment.
How often do we have to have sex if we do this course?
There are 10 segments of exploration with one video, one written/spoken exercise, and one sexual activity related to each segment. It is suggested that each section should include an opportunity to enjoy what you have learned about each other within a week after the section is completed. Many couples complete one or two sections each week.
We haven't had sex in a long time. Will the course help us get started again?
There are many reasons why couples find themselves not engaging in sexual intimacy. Some of those reasons may require therapeutic intervention to repair and heal difficult situations. When lack of time, stress, or nonspecific lack of interest is the cause, the course can refocus your priorities and spark desire and arousal. Over time, couples generally report an increase in frequency and lasting change in the excitement and satisfaction they experience in their intimacy.
My partner hates sex, and has said "It would be fine if we never had it again." …Help!
If an individual has a history of sexual trauma, a physical problem that creates pain during sex, or a fear of sex based on taboos imposed by family or culture, then therapy is recommended before trying the course. One thing the course is certain to do is provide the opportunity of the reluctant partner to examine their feelings and to find safety sharing them with their partner. In some instances, that opportunity alone can promote a willingness and interest that rekindles a satisfying sex life.
When slots become available couples can select from the following Online Coaching Package options after a FREE scheduled information consultation:
Kickstart Sexual Relationship into High Gear!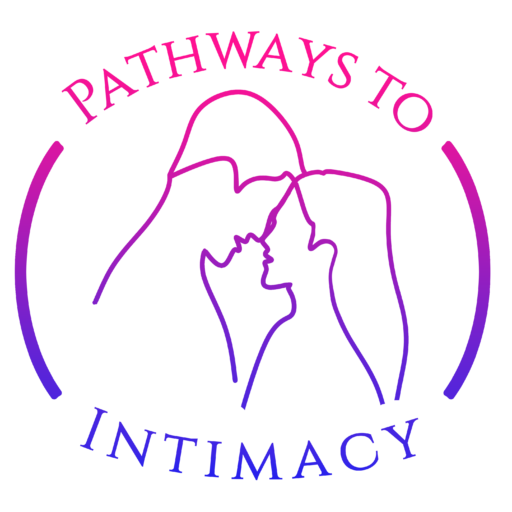 Pathways to Intimacy aims to open the door to a new relationship level. Contact us today to quickly and effectively take your sexual relationship to amazing new levels.